High Fibre Dog Treats
These delightful treats are perfect for all dogs of all ages. They are a fun and natural way to introduce fibre into your dogs diet. Not only are they great fibre the fur also helps remove tartar from teeth.
100% Natural. Gently air dried. NO additives. NO preservatives.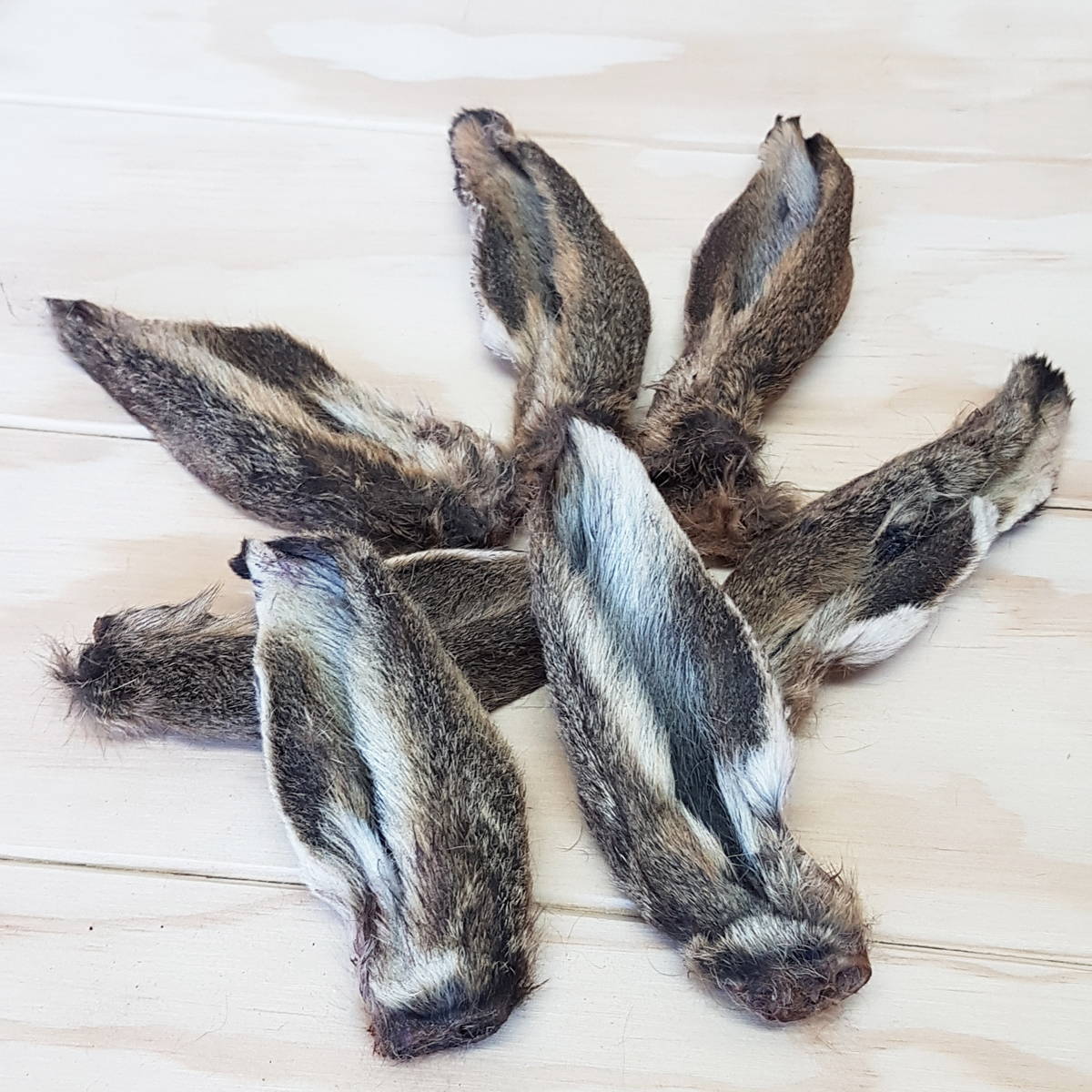 Bum scooting is when your dog drags their bum on the ground which can mean he/she is trying to empty their anal glands. One of the most common causes of anal gland problems is no fibre in the diet. Dried Biscuits and processed dog food have very little to no fibre content which cause mushy stools putting little pressure on the glands.
Fibre is excellent for firming your dogs stools. Firm stools put pressure on the glands helping them express naturally.
How do I get fibre in my dogs diet?
Feeding furry hare ears is a fun and easy way to introduce fibre. The fur brushes its way through the digestive tract clearing away any food residue which can build up over time, this cleanses the digestive tract from mouth to anus, in turn removing the build-up of food residue may directly help prevent cancers and some other physiological processes that may involve impaction of the gut. The fur also helps remove the buildup of tartar on teeth.
Are Hare Ears ok for puppies and older dogs?
Yes Hare Ears are ok for puppies 4 months and above. We do not recommend feeding to dogs that have dental, intestinal or digestion issues. Supervision and fresh water is required while feeding.
How Long will my order take to arrive
If you order before 2pm on a weekday your order will be shipped out the same day and you should receive it either the next day or the day after. Orders to the South Island can take 1-3 days.
Do we ship throughout New Zealand
Yes. We ship throughout New Zealand.
Raw and Wild is a small NZ Owned and Operated family business in the Far North. When you purchase from us your supporting one of the little guys.
We supply only 100% natural NZ made dog treats. We do not sell any treats that have added preservatives, colours, additives, fillers or flavours.
Our treats are hand packed by a very small team making it easy for us to control quality. You can be assured your buying top quality from us.
Raw and Wild, 18 Maritime Lane, Waipapa, Far North
Lets connect. We are on Facebook and Instagram